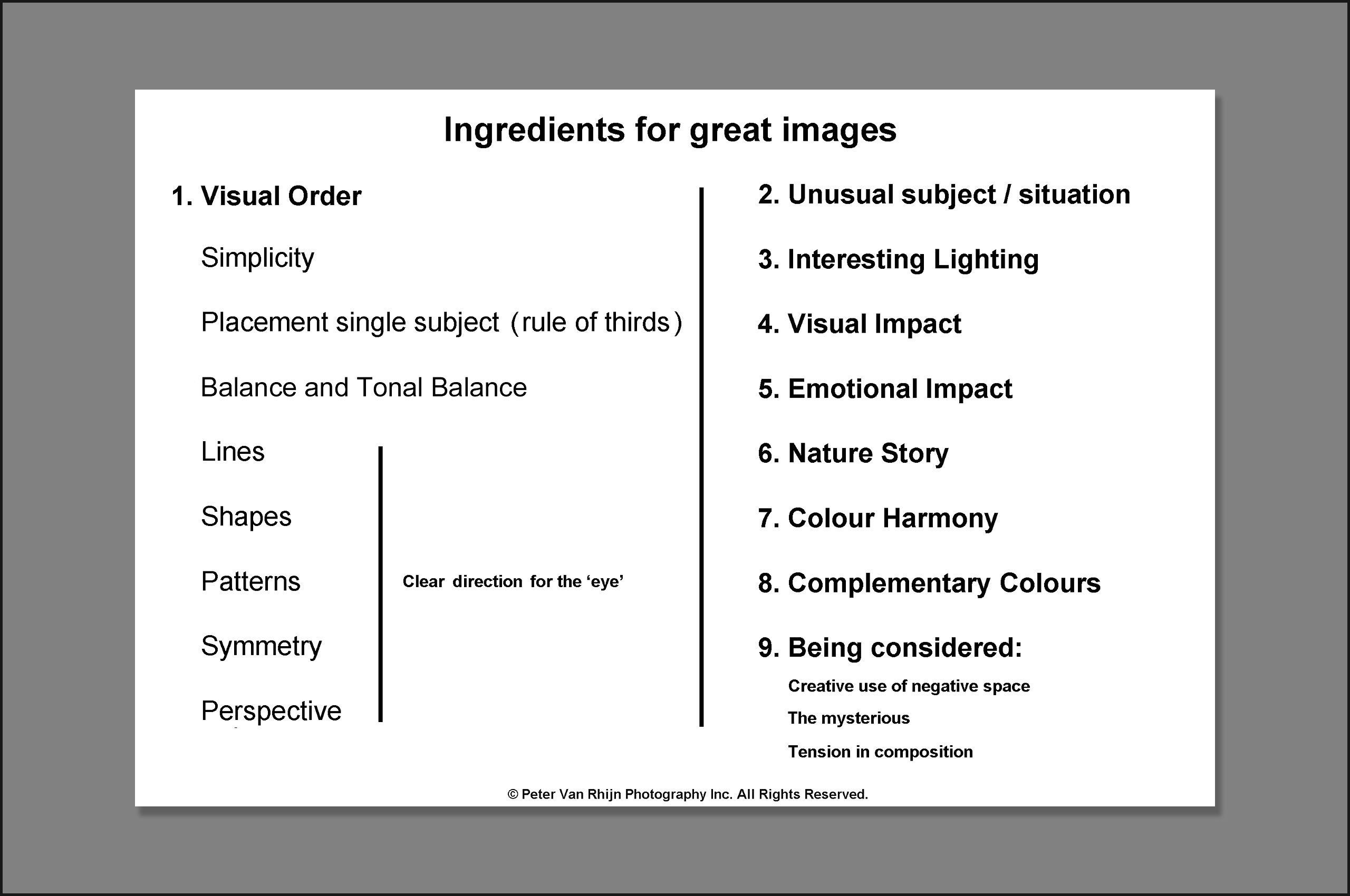 In 1985 I presented a seminar to the Mississauga Camera Club on the various reasons why photographic images can be successful. I am curious by nature and this has been one of my favourite subjects to study over the years.
In February of 2018 I presented to the same club my updated version of this project. The new name is "The Ingredients" - a rational and analytical approach to understanding photography. The basic idea is that successful images tend to contain several Ingredients, but exactly which Ingredients are being used in each image can vary a great deal. Generally images are stronger if they contain a larger number of ingredients.
"The Ingredients" schedule is deliberately a condensed list, to show that photography is not as confusing as it might seem to the beginner. With "The Ingredients" in mind, you can figure out what makes your Images 'work' much sooner than you might think.
Learning to recognize the main Ingredients in good images is a very useful skill for the young photographer. Annie Leibovitz says: "Look at your work and understand what you're doing". Using "The Ingredients" will go a long way in helping you do this.
Since the arrival of the digital age, many of us process and edit our own images. This adds another compelling reason why we need to be keenly aware of the Ingredients in our images. We now have at our fingertips the digital darkroom tools to optimize the Ingredients in our images.
"The Ingredients" schedule is subject to continuous improvement. In discussions, talks and workshops it is being modified and fine-tuned regularly so your comments and suggestions for improvement are appreciated. Under #9 three potential Ingredients are listed. Their merits are still being debated.
Copyright: Peter Van Rhijn Photography Inc. All rights reserved.
Toronto January, 2020